Sara Oveissi
Sara completed her BSc in Microbiology, followed by her M.Sc studies in Molecular Biotechnology at the University of Putra Malaysia, developing a DNA-based influenza vaccine (2006-2009). She completed her PhD studies in antigen processing/presentation in the viral and tumoral infection setting at the University of Melbourne, concluding her PhD in 2015 before moving to La Trobe University to begin her postdoc investigating the role of defective ribosomal products in influenza-induced immune responses. In 2015, she also took a volunteer laboratory management role alongside her research. From late 2018 till the end of 2021, she stepped into Ethics and Biosafety advisory roles at La Trobe and ONJCRI. Sara joined the Bryson-Richardson lab in late 2021 as a Senior Research Officer and Laboratory Manager. She is also establishing a system for assessing the pathogenesis of variants of unknown significance (VUS) identified in cardiomyopathy patients.
Outside management and research Sara enjoys gardening, experimenting with food fermentation, and challenging herself to learn anything exciting and new (from bee-keeping and oriental medicine to Python).
Carmen Sonntag
Carmen joined the Bryson-Richardson lab as Senior Research Officer mid 2022 and works on projects characterizing and investigating neuromuscular diseases and muscle development.
She completed her Bachelor's and Master of Science in Biology degrees, with major's in Zoology and Microbiology at the University of Karlsruhe in Germany.
Her career as a Research Officer started in 2001 at the Max-Planck Institute of Immunobiology in Freiburg in Germany, where she got trained and worked on projects investigating pituitary gland, skin and bone development in zebrafish.
After relocating to Australia in 2008, she worked as a Research Officer at the Victor Chang Cardiac Research Institute in Sydney and then as a Senior Research Officer and Laboratory Manager at the Australian Regenerative Medicine Institute at Monash University, where she was involved in different muscle development, muscle regeneration and aging projects.
Vanessa Calcinotto
Vanessa completed a Bachelor of Science with Honours, majoring in genetics and ecology and conservation, at Monash University in 2018. Her honours research project was a pilot study to determine whether genetically engineered bacteriophage could be used to deliver DNA material to eukaryotic cells. After graduating, she received an internship in Malaysia and volunteered in Greece doing sea turtle conservation. In 2019, Vanessa was then employed as a research officer in a drosophila lab at Monash University. In 2021, Vanessa joined the Bryson-Richardson lab as a research assistant for an honours student with Duchenne muscular dystrophy. In 2022, she became a full-time research officer assisting the members of the lab. In her free time, she enjoys playing AFL, hiking, learning Italian and travelling.
Prof Robert Bryson-Richardson
robert.bryson-richardson@monash.edu Google Scholar
Rob studied Human Genetics at the University of Nottingham before moving to the Medical Research Council's Human Genetics Unit in Edinburgh to complete his PhD and begin his work using the zebrafish model system. He completed his PhD in 2003 and continued his research at the Victor Chang Cardiac Research Institute in Sydney and the Australian Regenerative Medicine Institute at Monash University. He joined the School of Biological Sciences at Monash University in 2010. His focus is on clinically translatable findings to inform the diagnosis and treatment of neuromuscular diseases.
Emily McKaige
emily.mckaige@monash.edu Google Scholar
Emily completed a Bachelor of Science with Honours, majoring in genetics and molecular biology, at Monash University in 2016. Her honours research project was focused on characterising a novel candidate gene for heritable peripheral neuropathy. Following graduation, she was employed as a research assistant in the Bryson-Richardson lab, investigating the role of autophagy in the pathogenesis of myofibrillar myopathy and testing potential drug treatments for nemaline myopathy. Emily began her PhD at Monash University in 2019, and is studying the mechanisms of muscle development and disease.
Dashika Palipana
Dashika completed her Bachelor of science degree in 2015 at Kazan (Volga region) Federal University, Russia, with a major in Genetics. She received her Master's degree from Lomonosov Moscow State University in 2017, where she studied human population genetics focusing on native Sri Lankan population. She joined the Bryson-Richardson lab in 2019 as a PhD student. Her project is aimed at identifying novel myopathy genes. When not in the lab, Dashika enjoys travelling, watching TV series and reading.
CJ Bayly-Jones
CJ completed his Bachelor of Science majoring in Genetics and Developmental Biology at Monash University in 2017. In 2018, he completed his honours year in genetics with the Bryson-Richardson lab where he focused on the potential therapies for myofibrillar myopathy. CJ started his PhD in 2019 and has continued her research exploring approaches to treat myofibrillar myopathy. He is also interested in cardiomyopathy associated with myofibrillar myopathy. In his free time, he likes to keep active by playing AFL and skiing, and loves relaxing with a cup of tea and a good book.
Dr Lee Miles
lee.miles@monash.edu Google Scholar
Lee studied Genetics at University Otago, completing his Honours in 2005 on Xenopus development, before moving to Monash University in 2008 to begin his PhD working with the zebrafish model system. Lee completed his PhD in 2015, and subsequently generated models for muscle development at the Australian Regenerative Medicine Institute at Monash University, and invesstigated epithelial development and disease modelling at the Alfred Hospital, Monash University, and La Trobe University. In 2018, Lee joined the Bryson-Richardson lab in the School of Biological Sciences to work on applying the latest advances in genome editing approaches to investigate muscle development and determining the genetic causes of disease.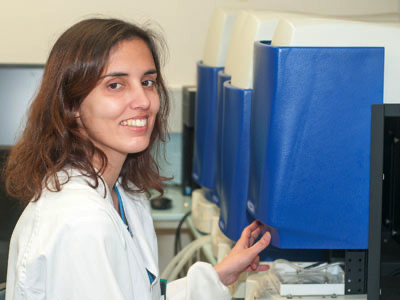 Dr Rita Serrano
Rita is a biologist interested in the connection between developmental genetics and medicine. She studied Biology at the University of Porto in Portugal (2005-2008), and started her career as a research trainee in the field of Population Genetics at IPATIMUP (Portugal, 2009-2010). Extending her curiosity for genetics research, she moved to Lisbon to complete the Masters of Molecular Genetics and Biomedicine at the New University of Lisbon (2011-2014), in collaboration with the Institute of Molecular Medicine (Portugal). Her project focused on the mechanism of tissue regeneration in the zebrafish. Rita joined the Bryson-Richardson lab in 2015 as a PhD student and graduated in 2019. She is currently characterizing new genes that have been associated with neuromuscular disease, aiming to understand the underlying biology and discover targetable pathways for potential therapies.
Outside of Science, Rita spends her time reading, learning new languages, doing yoga and (because she loves chocolate) enjoying a treat.
Ankita Tulangekar
ankita.tulangekar@monash.edu Google Scholar
Ankita completed her Bachelor of Science degree majoring in microbiology from Garware College, India. Ankita then completed her masters in virology from National Institute of Virology (NIV) from India where she worked on the role of Middle Eastern Respiratory Syndrome Coronavirus (MERS-CoV) proteins in increasing inflammation in bats which are primary hosts for the virus. Ankita started her PhD in Bryson-Richardson lab in February 2020. Ankita studies the role of inflammatory responses and oxidative stress in promoting muscle damage in Duchenne Muscular Dystrophy (DMD). She is also interested in identifying drugs which can reduce muscle pathology in DMD. In her free time, Ankita likes to travel, go on hikes, try new restaurants around Melbourne and spend time with her friends. 
Sulagna Chattopadhyay
sulagna.chattopadhyaymonash.edu
Sulagna has an integrated Bachelor and Master of Science degree in Biotechnology from Vellore Institute of Technology, India. She developed an interest in zebrafish development during her final year Masters' project where she looked at hematopoietic gene expression changes in zebrafish embryos under stress. Sulagna joined the lab in March 2020, where her research is on identifying and characterising novel myopathy candidate genes. Outside of work, she enjoys reading, sketching, and watching TV series, and has also recently taken up learning the keyboard.